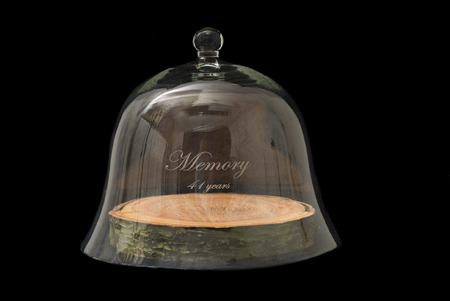 Memory, 41 years
(tree-ring section, engraved glass)
10.5"H x 12.75"W x 12.75"D
(c) Melissa Fleming 2002-2008.
The work of Melissa Fleming stopped me in my tracks. Much like a photograph, her work is able to capture a moment in the timelessness of nature, to preserve a pause in its infinite motion. Nature gives us such concentrated beauty all of the time: the saturation of an orange's orange, the perfect striations of muscle, the Spira mirabilis. Isn't that how we learn of beauty? From nature's context, of ultimate balance in all things?

In honor of Earth Day, I chose from Fleming's portfolio these fabulous pieces from her Under Glass series. These pieces frame nature as the artist, and by taking these small samples out of the larger context of the ever-moving world, we can appreciate their greatness, like a seeing a darting hummingbird in slow motion.
(c) Melissa Fleming 2002-2008.
(c) Melissa Fleming 2002-2008.